As a real estate broker, it is my job to help people buy and sell homes. Over the years I have been privileged to help many clients do this, representing them in the purchase and sale of many, many beautiful homes.
Once in a while though, if an agent is spectacularly lucky, s/he will have the great good fortune to represent someone in the sale of a truly exceptional property. And recently, my number came up big time!
Which brings us to the house at 254 Bay Street South, which was once known as "Maple Lawn". Built in 1894 in the style known as Queen Anne Revival, the house exhibits many characteristics common to this very specific esthetic:
round tower or turret
various types of exterior finish, in this case brick, red sandstone and fish-scale slate roof
wrap-around porch
asymmetrical design
rounded shapes and curving lines
steeply pitched roof
The property is unique in the City of Hamilton in that it has survived the ravages of time, eluded the wrecker's ball and most remarkably of all, has been the spared the well-intentioned "improvements" of its owners over its 125-year history. It is a shining beacon at the corner of Bay and Charlton in the heart of Hamilton's Durand neighbourhood which, once upon a time, was crowded with similar residences in various architectural styles, built in the grandest manner during Hamilton's golden age of residential construction. Sadly, most of these great houses are gone; either demolished outright or altered beyond recognition.  All the more crucial then, that the few remaining examples of this amazing period in residential design and construction be preserved for the enjoyment of future generations.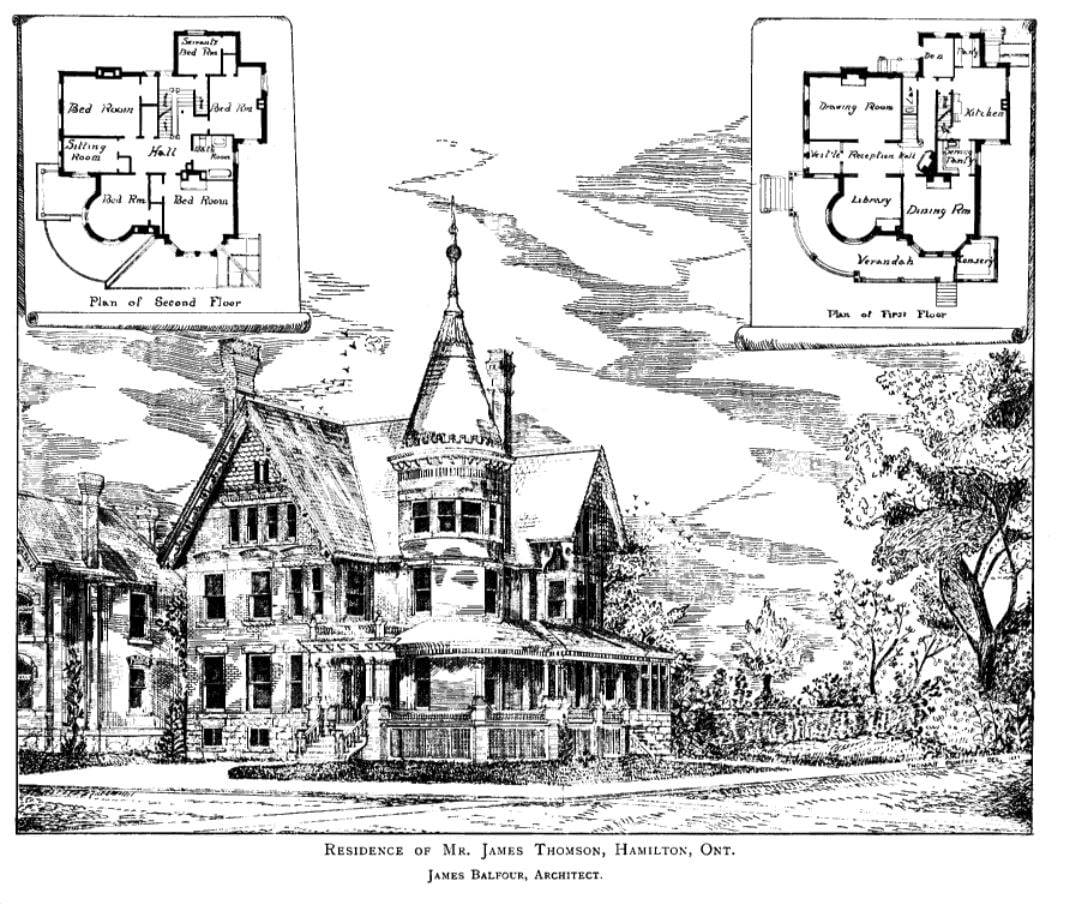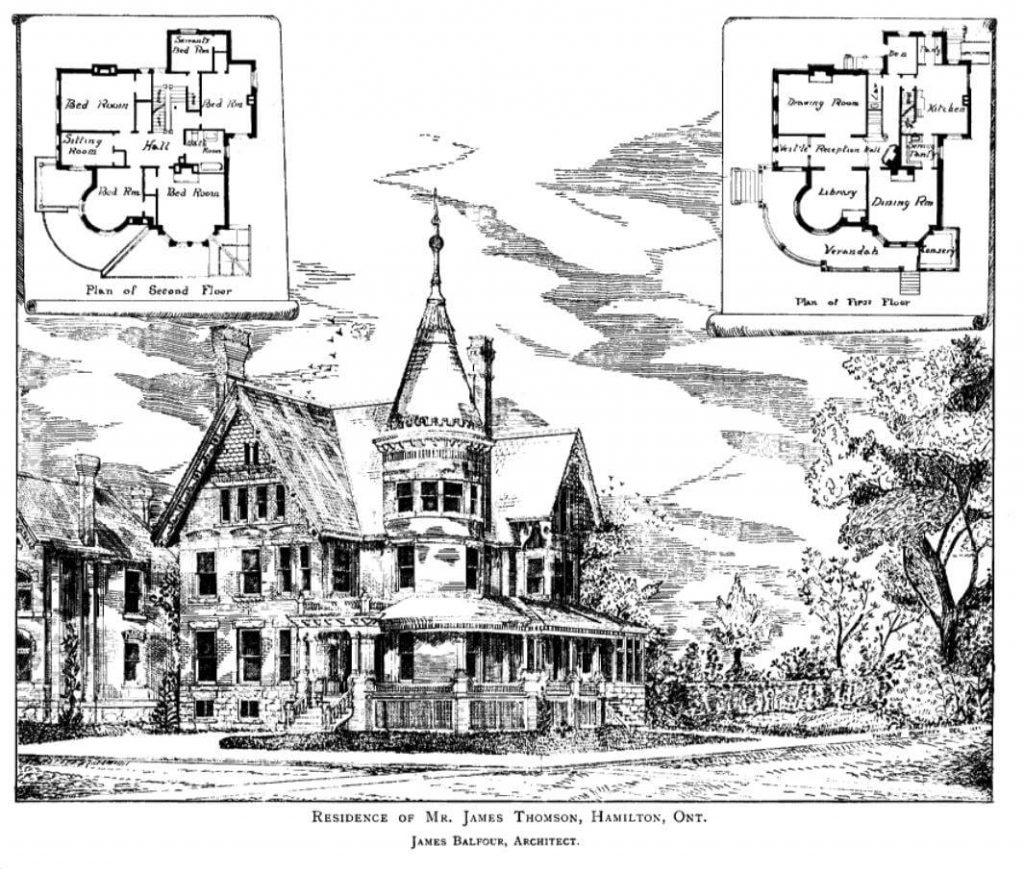 Houses in this period were built to display the wealth and success of their owners, which is why so many of Hamilton's major streets in the old city are (or were) lined with Victorian mansions. And so, Maple Lawn sits proudly on its high-profile corner location, ideally positioned for passers-by to marvel at the opulent exterior.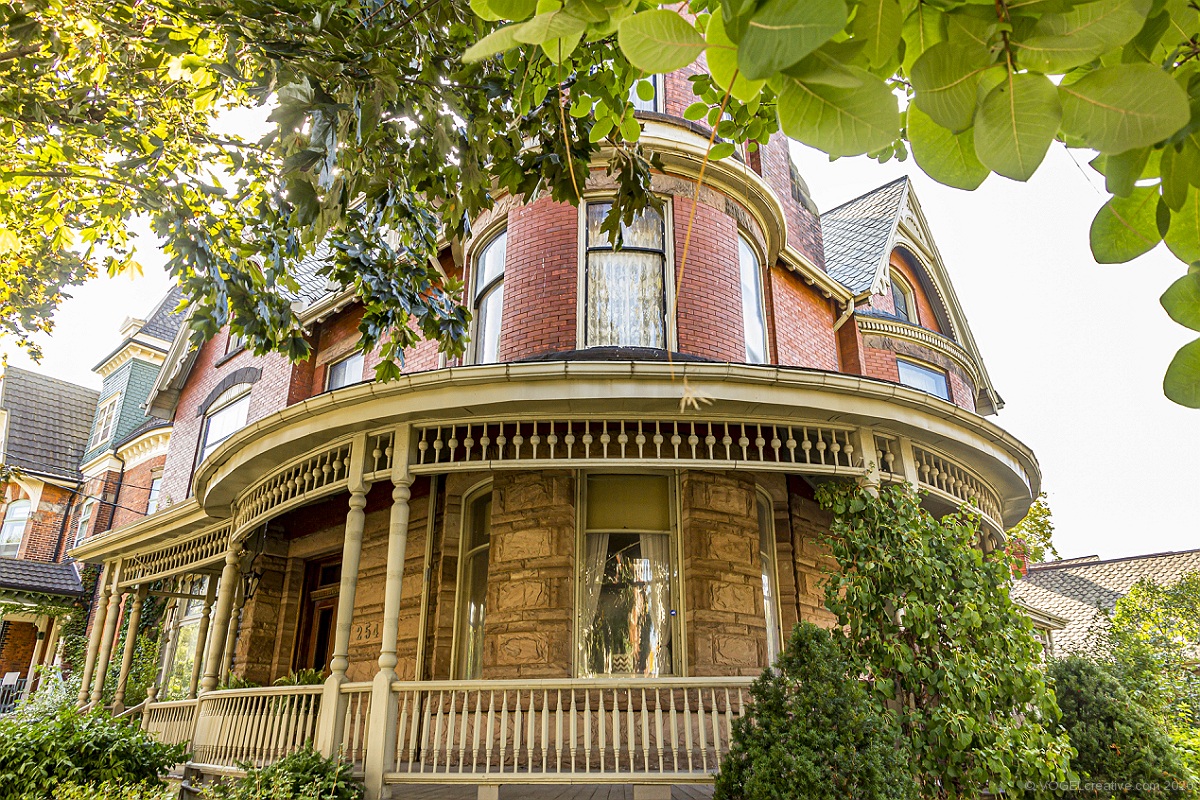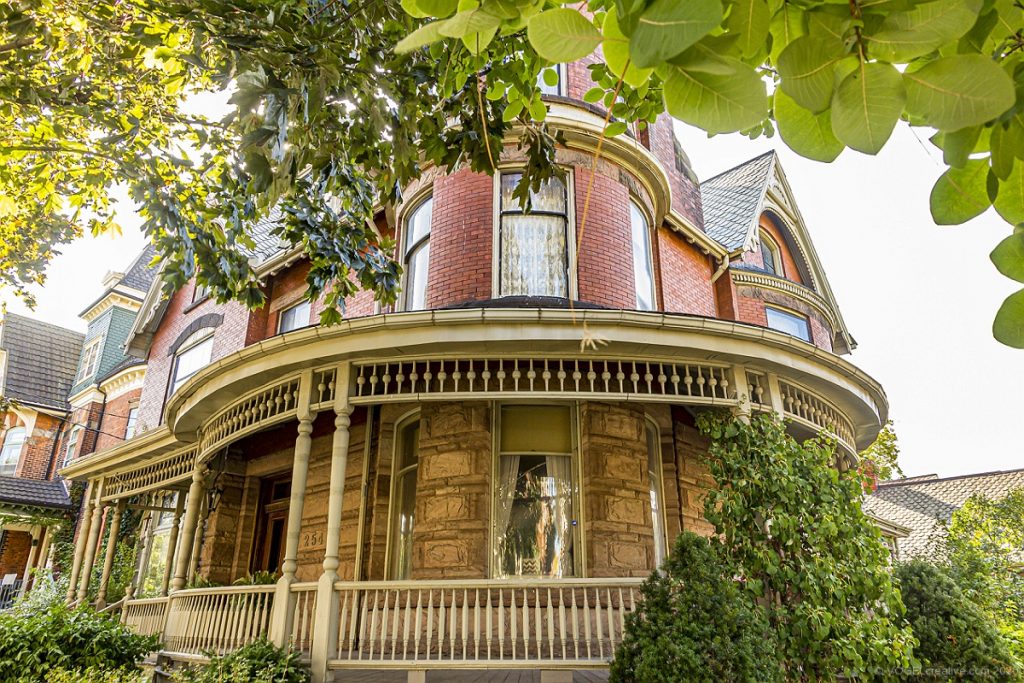 The interior of the house fulfills the promise of the view from the street. Virtually every detail remains intact and it starts from the moment you enter the front door: coffered oak ceiling in the vestibule, gorgeous oak staircase featuring a torchiere sculpture of Ponce de Leon, huge stained-glass window, stunning crystal chandeliers, two drawing rooms with pocket doors, eleven foot ceilings, ball room mirror, plaster mouldings and medallions, unpainted oak trim, butler's pantry with original cabinetry, thick oak doors with original ornate hardware, the list is endless and it is all original and in remarkably good condition. The third-floor attic tells the story of the steep roof we see from the street – the peak is about 30 feet above the attic floor!
The property also includes a two-bedroom cottage, originally built by Hamilton's first coroner, Dr. William McNichol, as a place to house his practise. There is also a large coach house with original hay loft.
Such a unique property requires a unique owner. The current owner, Beverly Bronte-Tinkew, happens to be a very good friend of mine and she takes her responsibility as steward of this remarkable place very seriously. It is her fervent wish, and mine, that we find a buyer who sees the heritage value of the house and will continue to protect this lovely piece of Hamilton's architectural legacy.
Do you think you might be the next steward of this magnificent home? Give me a call, or send me a message. We would love to show you around.