There is an old maxim in the real estate world that goes like this: "You have to list to last" and this is true to an extent. I'm all about getting new listings. They are something I can put my name on, showcase on social media and dazzle my seller clients with my astonishing staging skills. But that's a separate blog.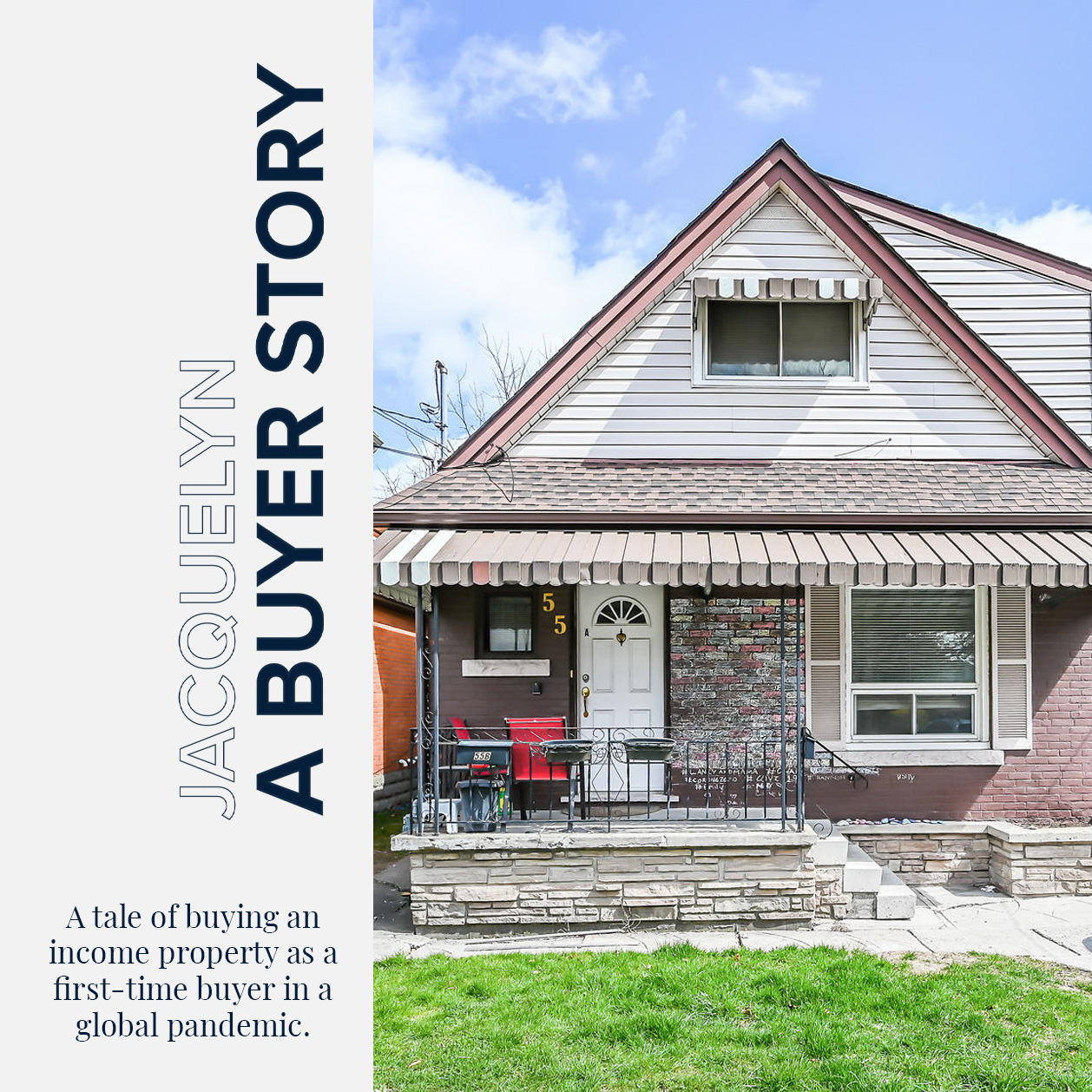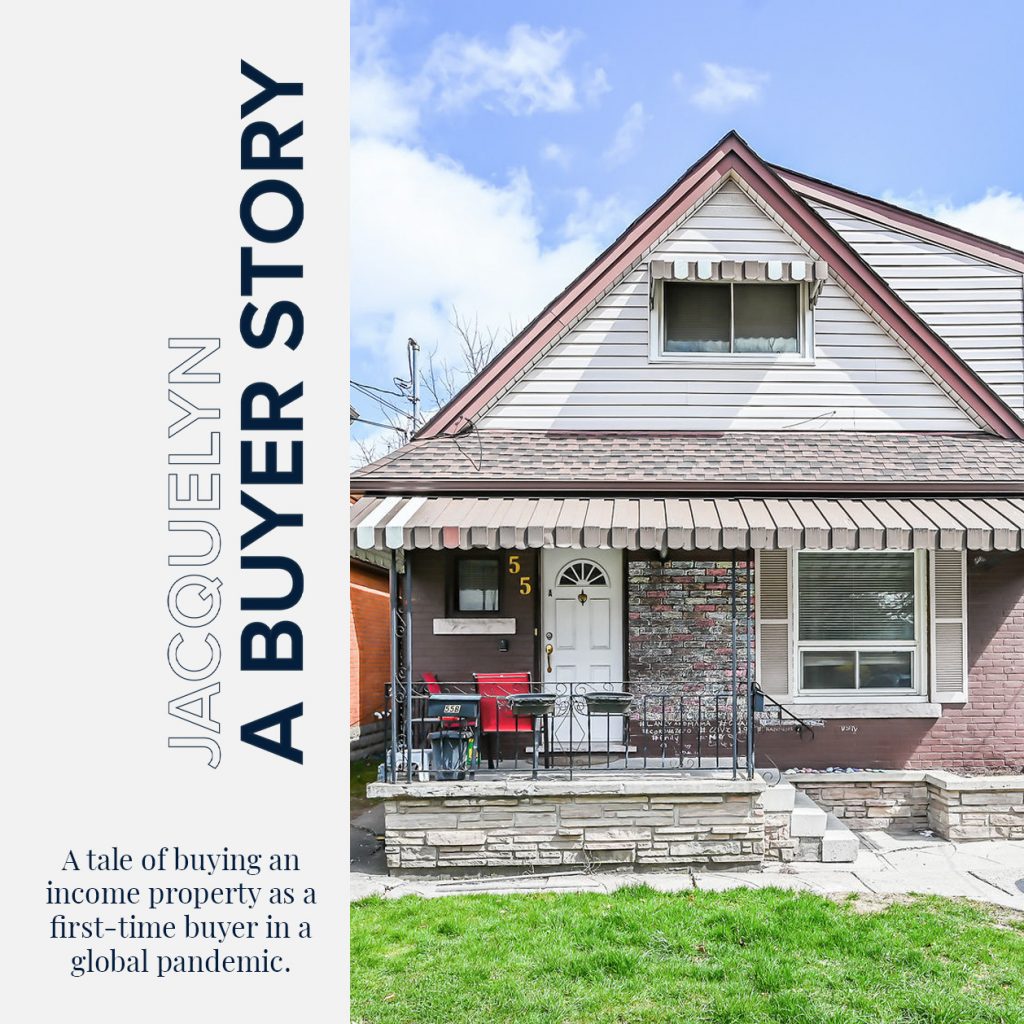 Aside from listings, do you know how we realtors also spend a lot of our time? And I mean… a LOT of time? Buyers. First-time buyers looking to claim their stake in the market, home owners looking to grow into something bigger, long time clients who are looking to downsize or who have recommended a family member or friend in the pursuit of a dream home… Sellers would be nowhere without what? Buyers.
And with that, I bring you a little blog series on some of the fabulous buyers I've had the pleasure of working with. The road to buying a home is often a long and winding one, with lots of potholes and unexpected detours. I want to bring you along on some of these journeys. And so I present the first in our series of Buyer Stories: Jacquelyn, and the little brown house she didn't know she wanted. (And to be honest, I didn't think she'd want it either, but here we are).
I could tell you the story, but Jac is a chatty, vibrant, young professional and she can tell you better herself.
Q: Jacquelyn, tell us a bit about yourself and how you began your real estate journey.
A: I moved to Hamilton in 2013 to pursue my masters at McMaster University. I'm originally from Newmarket, and I did my undergrad in Waterloo. And boy, do people love to hate on Hamilton! I tried to buy in 2016 but the market had freshly exploded. But I just turned 30, I'm a young professional, I'm ambitious – 2020 was going to be my year! Just kidding – COVID hit our city. I still wanted to get into the market so I reached out to a local realtor. It wasn't Tom – sorry!
Q: How did you go about finding an agent as a first-time buyer?
A: I was pre-approved for a mortgage through Boyce at The Personal Mortgage Group, which was an amazing experience. They gave me some recommendations for realtors, Tom being one of them. That said, I called another realtor in the area. Now, let me preface this by saying that different approaches work for different people. She showed me a number of houses at the very beginning of my search. I couldn't have told you what exactly what I was looking for, but I could tell you that making a good investment in the sense that rental opportunity or return on investment in five years was the priority that drove me forward.
I felt sometimes that this priority went unheard and perhaps my motive to be in the market was not truly understood. We would view a potential property, and perhaps I showed interest – I value a real estate professional's opinion and expertise – however, I was often met with statements such as "oh, you don't want to deal with maintaining this kind of property" or asked questions about "well, could you see yourself having kids here?"
Due respect, but I'm a queer, single, working professional. Making rooms for kids in a good neighbourhood was not what I had outlined as priority features in a potential first home. I appreciate that she may have been looking out for me five years down the road, but I needed someone to understand where I'm at right now, as I enter the market.
I started the search for a better fit. It was a gut feeling that drove me. I called Tom, one of the realtors recommended to me by The Personal Mortgage Group. Tom called me back instantly, and I'm not just saying that because this is going on his website. And we started our search together.
Q: At this point, having seen some houses, did you have a clearer idea of what you might be looking for?
A: A little bit. I mean, my budget was still completely flexible, as was the type of house or number of rooms or features I was looking for. I wanted a home in an up and coming neighbourhood with some potential for improvements and investment. We started our search with neighbourhoods that would boom in 10 years – Crown Point, Concession and the Brow, specifically.
Q: And from here, how did it go?
A: Well, we saw about 15 houses of all shapes and sizes in about 3 weeks. We made offers on a few houses and lost to unbelievably stiff competition. I was feeling frustrated. It felt like everyone living in Toronto who had been given the green light to work from home permanently or semi-permanently had suddenly discovered the affordable homes available in the city they used to love to hate on. I asked Tom, "Is the market leaving without me?" and he said, "I think it might be."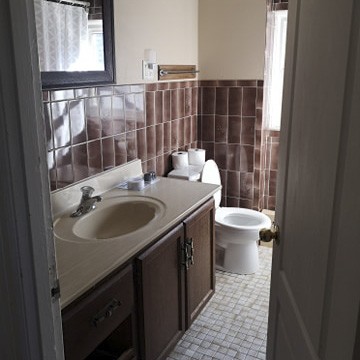 Q: But we both know you found a house at last; how did you get there?

A: Our search turned up a duplex on the Mountain Brow. I considered it because of its proximity to the Juravinski and I could, in the future have professional tenants. It was brown, and about 100 years old, but not in a charming way – though it was in a beautiful neighbourhood. It had carpeted walls and ceiling along the stairs – brown shag carpet. I liked that it was a front to back split, meaning no one would be above or below the other.
I wanted to see it although I could tell that Tom was hesitant. During the viewing he was quiet, yet answered all my questions when asked. Inside was surprisingly much nicer than the exterior. I wanted to put an offer in.
Q: And this is where it gets fun, right?

A: Absolutely. There were 6 revisions in total to the deal. The bank wouldn't allow me to purchase it as an income property. The sellers had to guarantee one vacant unit for me to move into as my principal residence. It was Phase Two in COVID terms, and the sellers were unable to make this guarantee because evictions were not enforceable at that time. The guys over at the Personal Mortgage Group had to find a lender to take this risk on. I asked myself several times if THIS house was worth the fight, but we persisted. At this point I must thank Tom because I wanted to make an offer without a condition of financing – and he insisted time and time again that we not do that. Thank goodness I agreed since financing the purchase turned out to be such a challenge. We finally got a conditional deal together and Tom was able to negotiate an extension to the finance condition because the lender and underwriter were reluctant to fund the property with both units rented. We had to wait over the weekend for an answer from the bank.
Plot twist, over that weekend, we entered Phase Three, which opened up the opportunity for the sellers to give notice to a tenant, allowing me, the first-time buyer, to have this property as my primary residence.
It was all very stressful and complicated and I know there was a lot of stuff happening in the background which Tom was protecting me from. We finally received the green light at the last possible minute before the deal expired!
Q: A Happy Ending, then?
A: I took possession at the beginning of November! The deal took extension after extension, and amendment after amendment before it came together and Tom held my hand through it all. He was available morning, noon and night for all my questions as I pored over the documents time after time. Some realtors would have given up and I wouldn't fault them for it, truthfully. Tom worked closely with the listing agent and the mortgage broker to find solutions to the challenges the transaction presented. His level of dedication lead me to this home, which ended up being exactly what I needed. He continues to help me find resources for my new home, and he believes in Hamilton; that city everyone loves to hate.
_____
Congratulations to Jac on her first home, and for loving Hamilton the way I do. The best time to buy a home is always five years ago, and this lady has waited for her turn patiently. Stay tuned for an update as Jac gets settled in and picks a colour other than brown for her new home.
If you're thinking about buying a home, I'd love to help you on your journey.
"One of the most sincere forms of respect is actually listening to what another has to say." – Bryant McGill