2020 certainly felt like the wild, wild west of real estate. Strong buyer interest driven by record low interest rates and low inventory led to a very strong sellers' market. Realtors were identified early on as an "essential service" and we had to adapt our business practices to keep transactions running smoothly and safely. Many people are wondering if this level of interest and growth is sustainable, but January 2021 seems to be off to a strong start!
Last month, The REALTORS® Association of Hamilton-Burlington (RAHB) reported 825 sales of residential properties located within the RAHB market area. Sales were down 9.6 per cent over last month but up 6.9 per cent over January of last year. New listings were up 47.3 per cent over December 2020 and down 16.2 per cent over last January. The average price for residential properties was $787,840, which was up 7.9 per cent from last month and up 27.6 per cent from January 2020. The number of active listings available at the end of the month was 53.2 per cent lower than the previous year.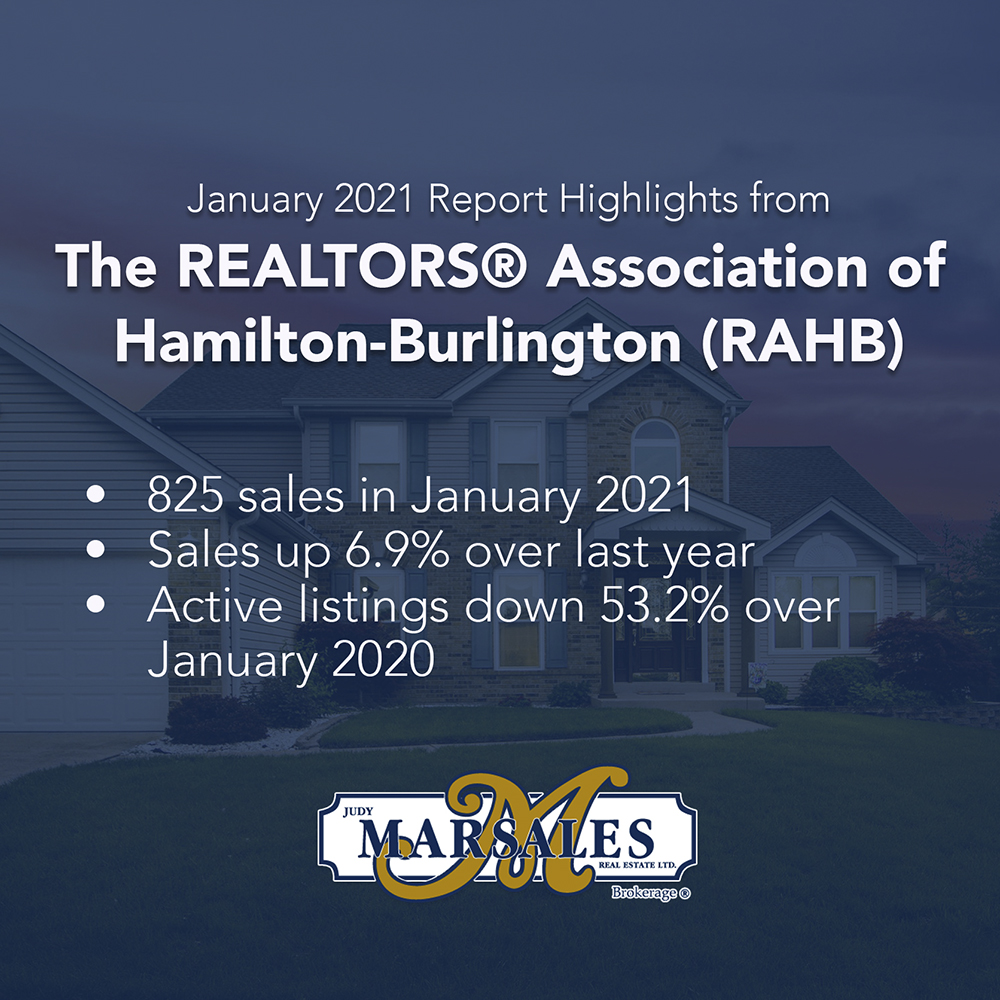 "In the RAHB market area, we saw an increase in sales activity last month, despite a decline in new listings. Our sales to listings ratio of 81.6 per cent, second only to January 2017, tells us that the RAHB market area is firmly in a seller's market. In addition, now many homeowners may not be interested in or even able to move their households due to the pandemic, adding to our inventory woes." – RAHB President Donna Bacher.
The number of new listings remains low, a pattern we've seen since October 2020. New listings were down 53.2% over January 2020, and the average sale price increased by 27.6% to $787,840 from the same time period. A seller's ideal conditions. Although, much of this inventory reserve is thought to be caused by the logistical challenges that listing and moving presents in the midst of the pandemic.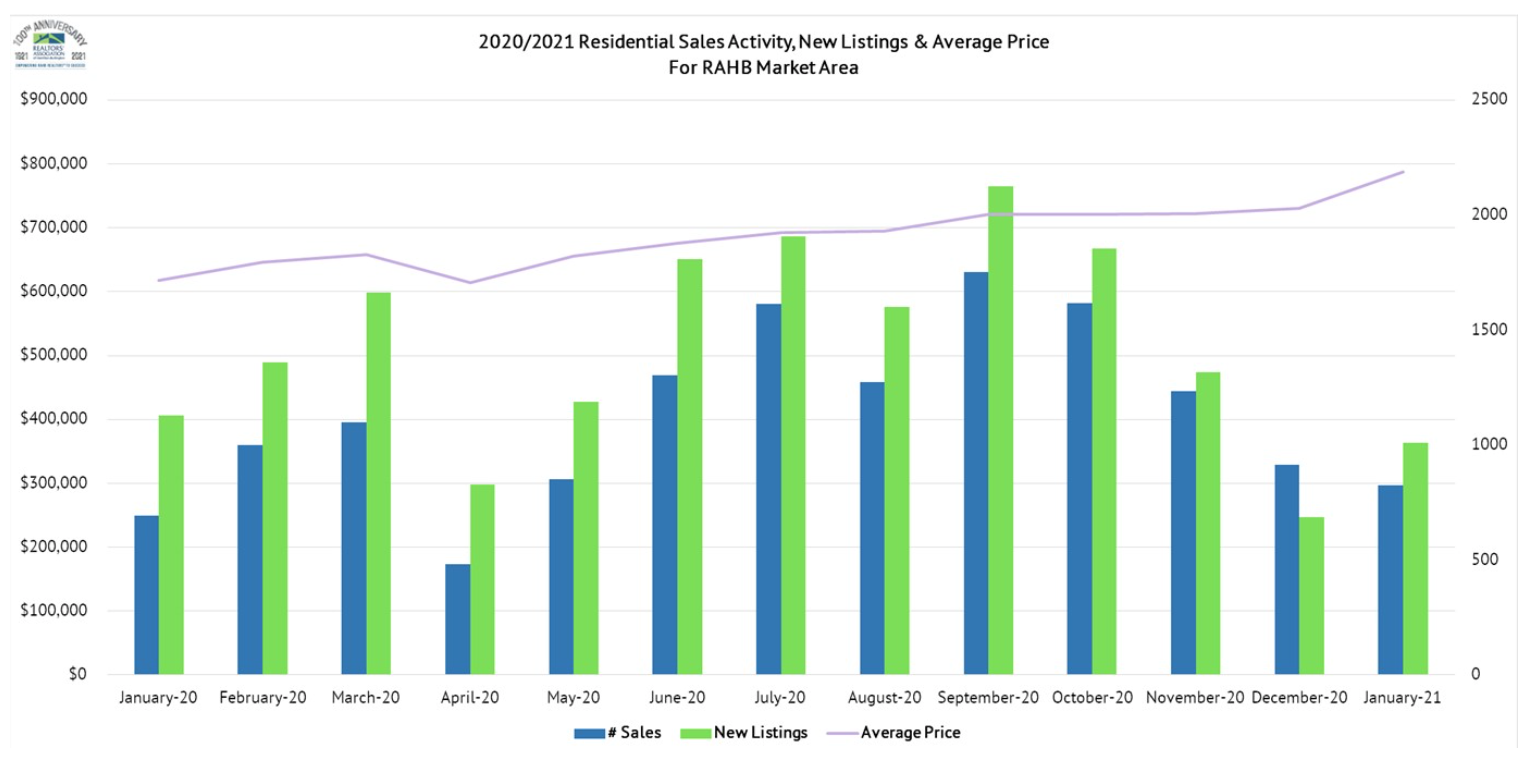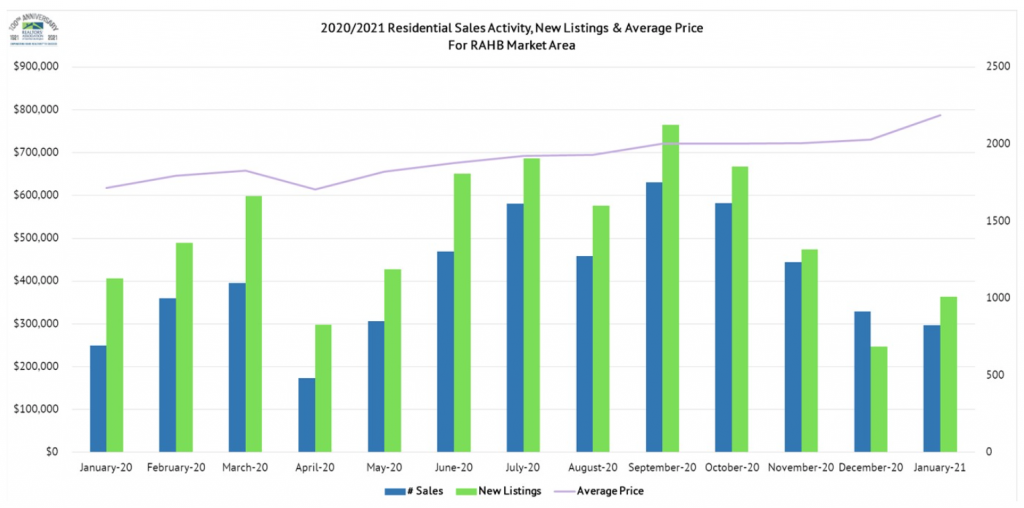 And how does this break down for property type? In January 2021, apartment-style properties saw a sky-rocket in sales over January 2020, whereas single-family properties and townhouse sales both saw a decrease in sales and healthy increases to average sale price.
Apartment-style property sales increased by 64.7% from January 2020; new listings increased by 6.8% and the average price increased by 11% (to $475,796).
Single family property sales decreased by 6.9% from January 2020; new listings decreased by 16.2% and the average price increased by 23.4% (to $787,840).
Meanwhile, townhouse sales as compared to January 2020 decreased by 2.2%, new listings were up 3.3% and the average sale price increased by 28.8% (to $644,958).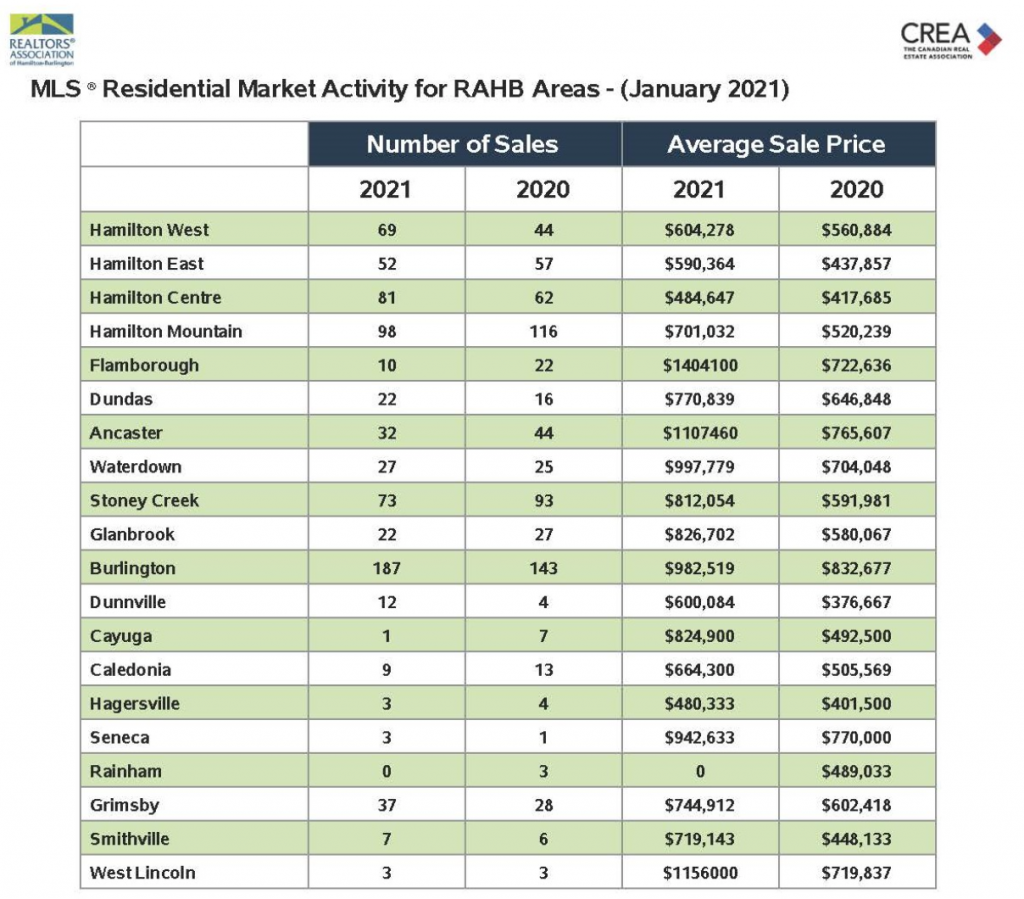 As always, looking at specific areas within the RAHB market area helps to paint a better picture of activity year-over-year. There is consistent growth in Hamilton West, East and Centre in regards to number of sales and certainly average price. Meanwhile Hamilton Mountain, Ancaster and Stoney Creek saw decreases in number of sales as compared to 2020 but significant increases in regards to average price.
"Compared to single-family and townhomes, we didn't see such a drastic drop in active listings in apartment-style properties. While apartment-style properties sales were robust in January 2021, the average price throughout the Hamilton-Burlington area remains very attractive to both first-time buyers and investors." – Donna Bacher.
It's understandably difficult to take in this ever-changing data. I'm here to help as we all commit to stay home procedures. I have all the tools at hand to execute virtual viewings and have a number of protocols in place to ensure a safe listing process. If you have any questions, don't hesitate to reach out, even if you're not ready to hit the market. Call, text or email me anytime!