Who could have predicted this? Limited inventory is driving average prices higher and higher as compared to previous months and years – THIS is the definition of a seller's market. While the number of active listings available at the end of the month was 40.4% lower as compared to September of last year, The REALTORS® Association of Hamilton-Burlington (RAHB) reported 1,751 sales of residential properties in September 2020. Sales are up 37.67 per cent over August 2020, and are up 53.9 per cent over September 2019. The average price for residential properties was $721,354; up 19.8 per cent from September 2019, and up 3.8 per cent from last month.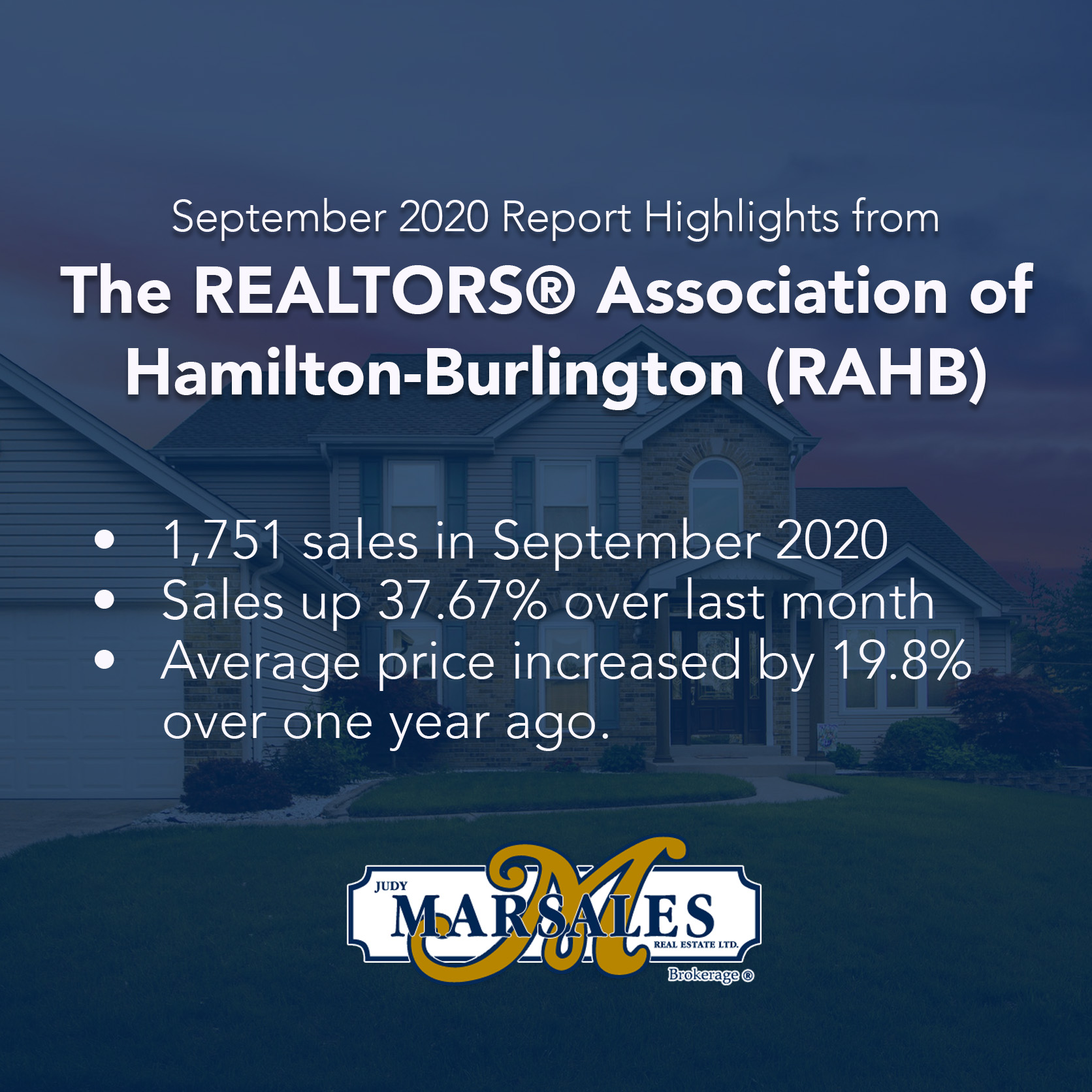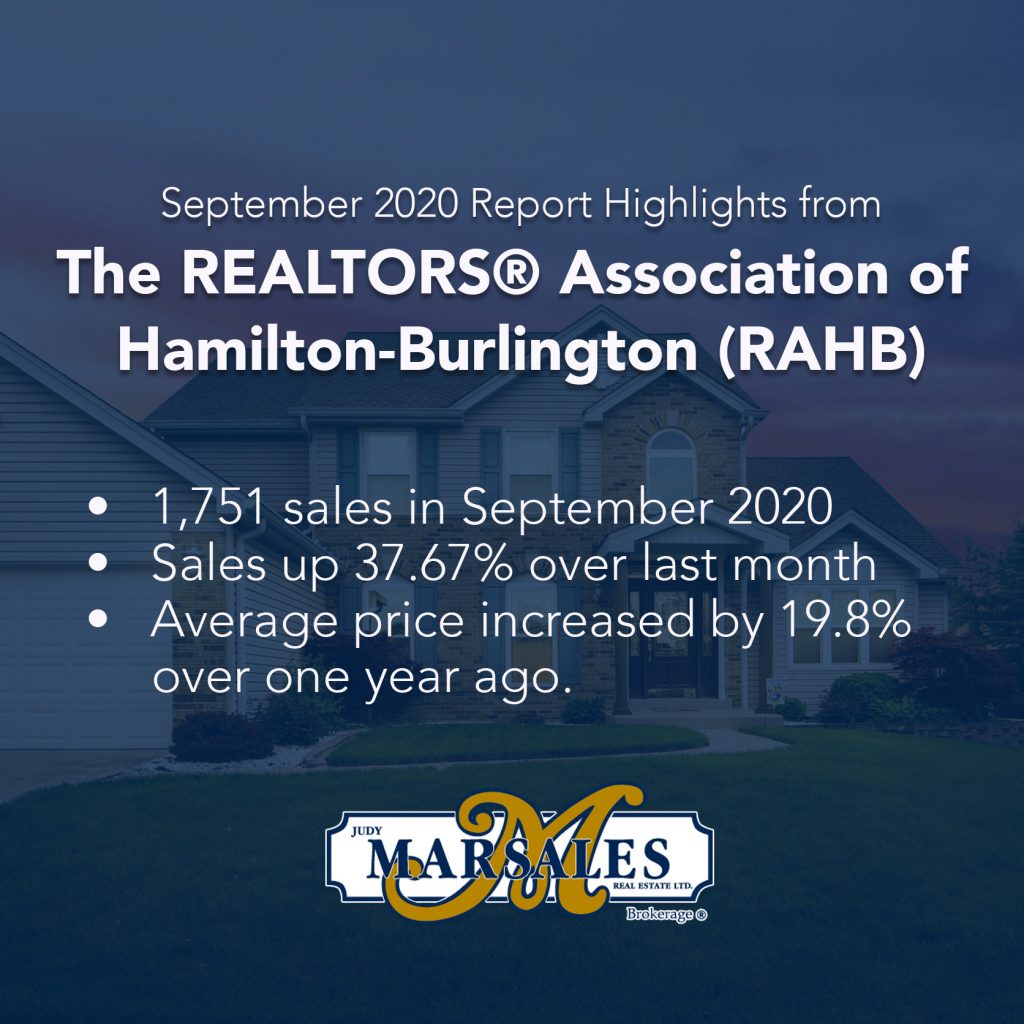 "September is typically a busy month as we move into the Fall market; however, activity was some of the highest we have seen. Sales significantly increased in September over last month and last year, and average price was up 10 to 20 per cent in all of our major RAHB communities for those same time periods. We also saw an increase in new listings in our area; however, there is a low number of active listings, which was down in September by over 40 per cent compared to the same month last year. This low inventory is driving the average price higher. – RAHB President, Kathy Della-Nebbia
Any reservations that potential buyers were holding at the beginning of the summer due to the pandemic has long since past and consumer confidence has soared since moving into Stage Three. By mid-to-late Summer, we essentially saw the burst we were expecting to see in the Spring under normal circumstances.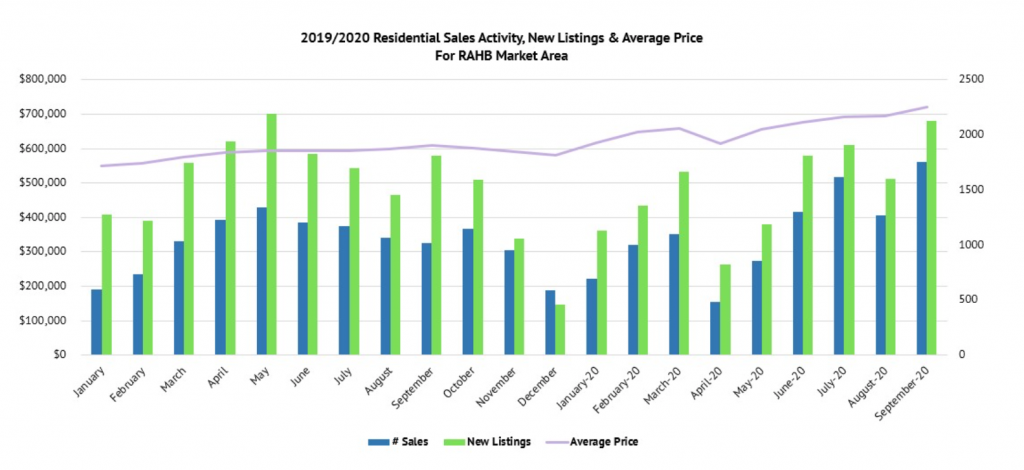 And how does this break down for property type? In favour of townhomes, let me tell you!

Apartment-style property sales increased by 37.6% from September 2019; new listings increased by 17.6% and the average price increased by 15.4%. Not bad!

Single family property sales increased by 39.5% from September 2019; new listings decreased by 10.6% and the average price increased by 19.6%. Low inventory, increased prices.

Meanwhile, townhouse sales as compared to September 2019 increased by 56.1%, new listings were up 16.2% and the average sale price increased by 17.3%.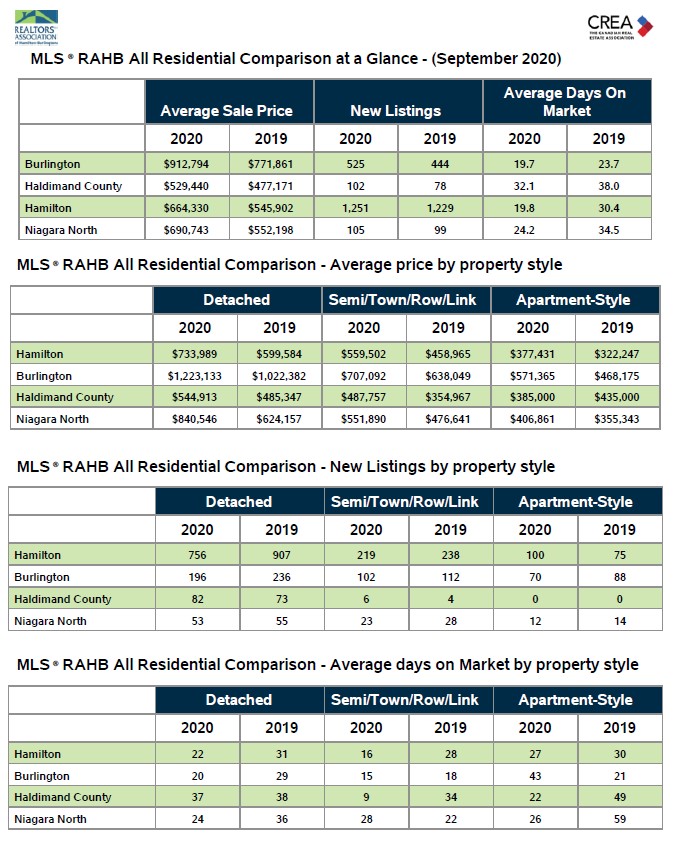 And of course, each area within the RAHB catchment area has seen different patterns of growth. Average sale prices in areas like Hamilton West, Dundas, Ancaster and Stoney Creek are seeing a year-over-year growth of over $100k. Then there's the showstopper areas like Burlington, Flamborough and West Lincoln that are seeing truly astronomical growth. All other areas in the RAHB district are seeing moderate to competitive growth, which is expected to hold strong.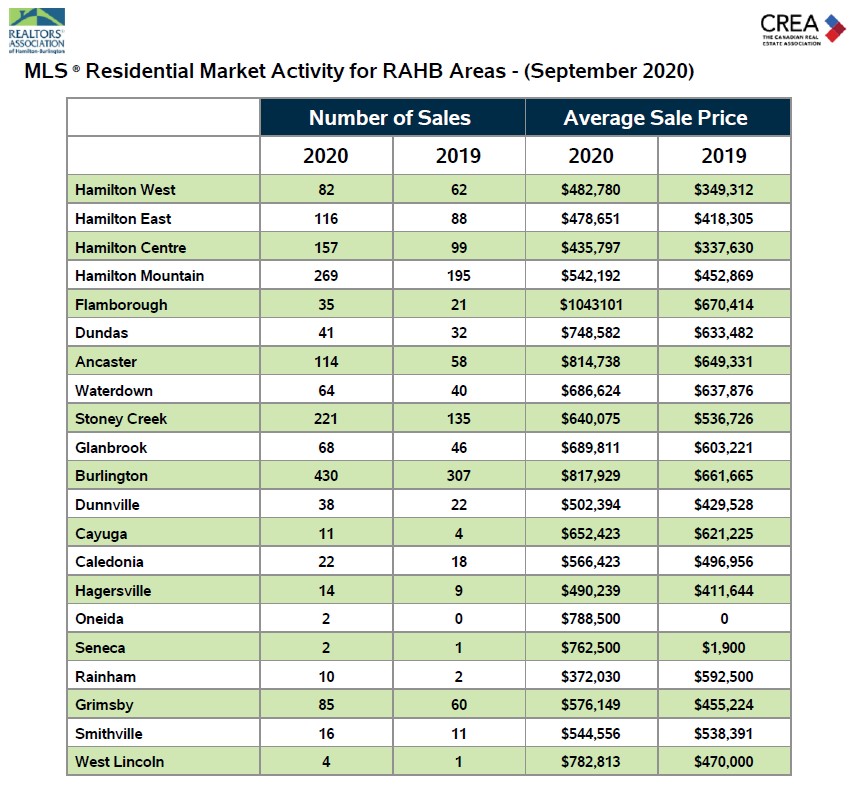 Where does this leave potential buyers and sellers? As specific neighbourhood data varies so greatly, I'm here to help you determine the right price and conditions of a home sale to fit your unique needs. School is back in session, many people are back to work, and we are seeing the number of COVID-19 cases back on the rise as our economy and personal lives prep for the second wave that we knew would come.

Considering all of these factors – please give me a call or send me a message if you are thinking about buying or selling. I know Hamilton and I am here to help. Stay warm, and stay safe!