The last time I sat down to write a market update, things were slowing down but not for lack of dedication on the part of eager buyers. We're still experiencing low inventory, and low listing inventory which continues to send the average sale price to a new high, but don't be discouraged.

Let us take a deeper look into what the month of September looks like. The REALTORS® Association of Hamilton-Burlington (RAHB) reported sales of 1,226 of residential properties located within the RAHB market area throughout September 2021. Sales increased 2% since last month but are down almost 30 per cent since last September. New listings are 14 per cent higher than August but down 26 per cent since September 2020. Average price for residential properties was 881,656 – an increase of nearly five per cent last month and a 22 percent increase from last year.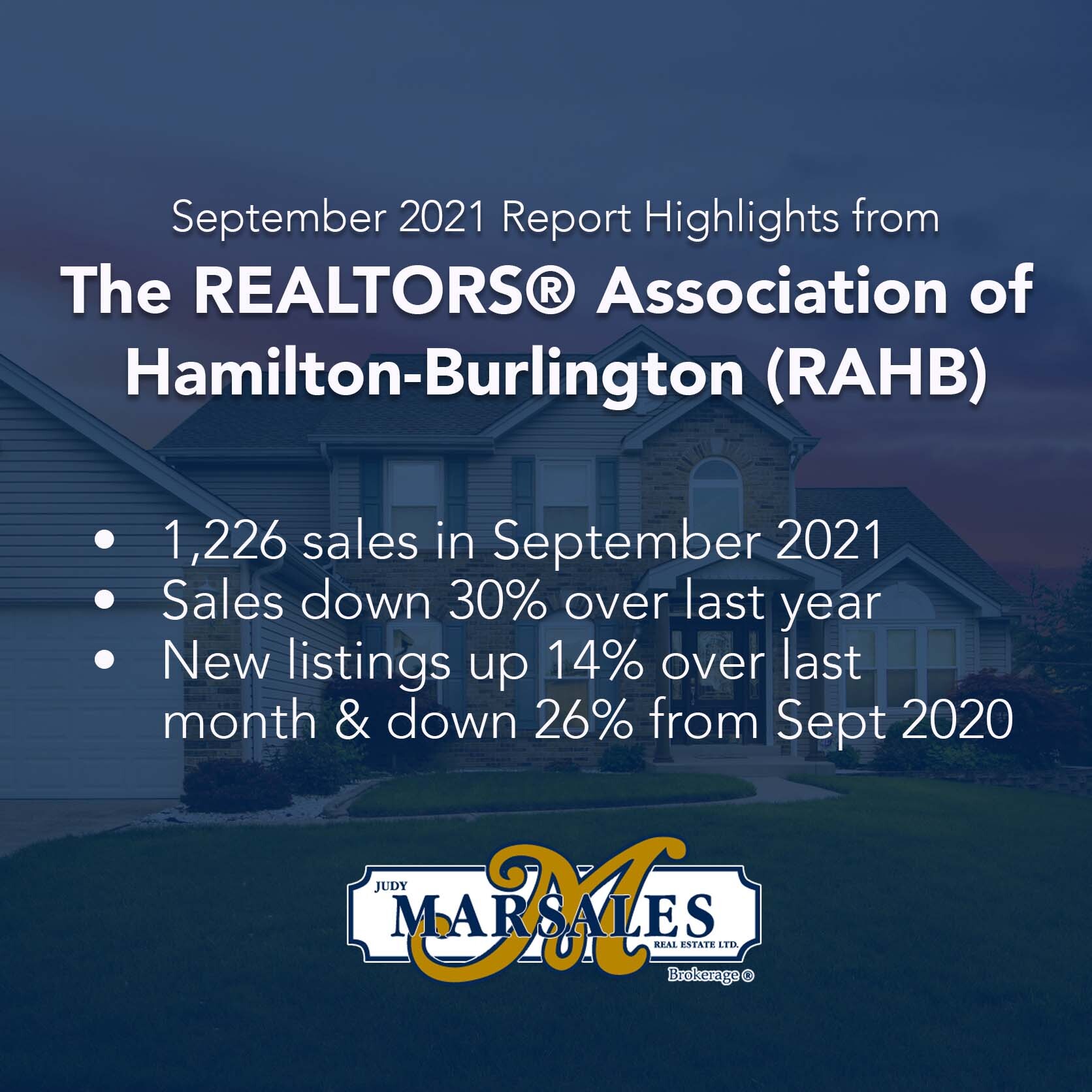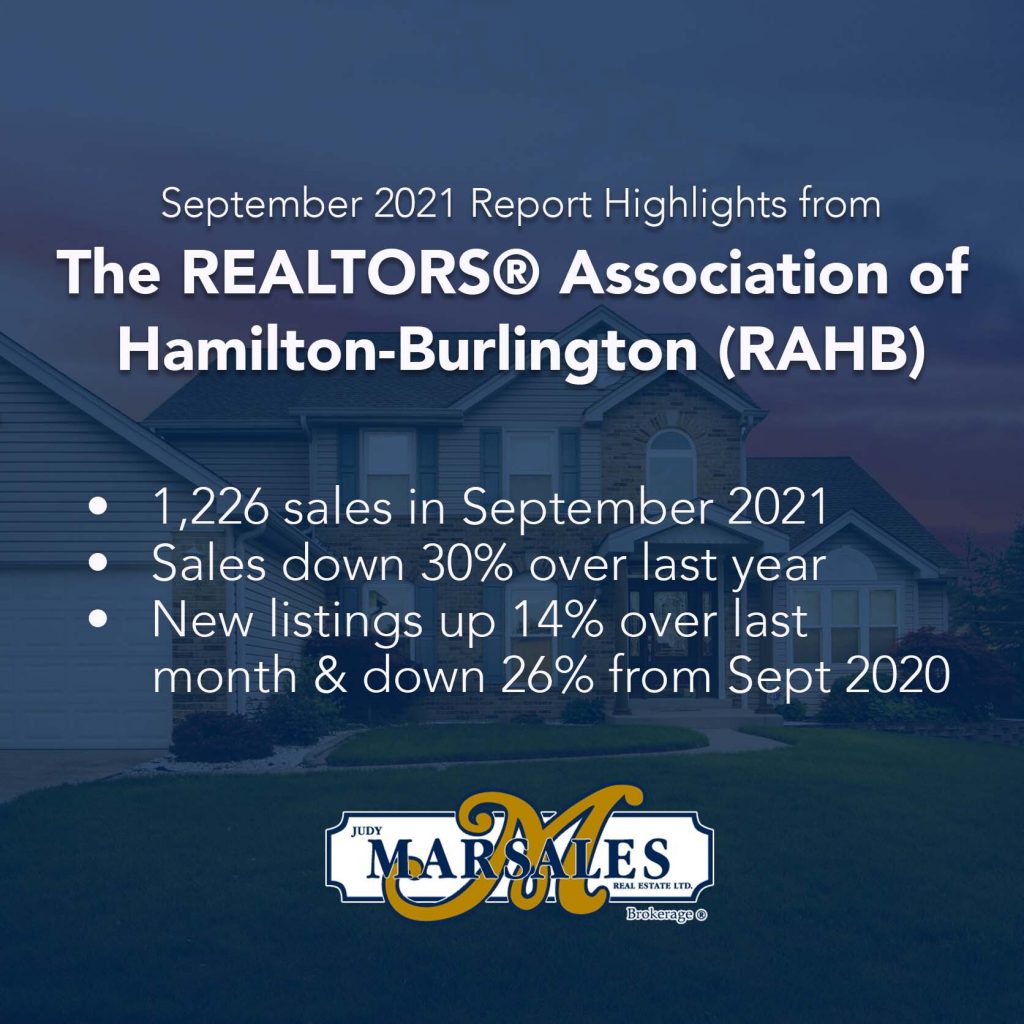 "After months of relatively flat prices, September's historically low listing and inventory levels have moved the average sale price to a new record, the demand remains strong and the supply remains low. Overall, we need more supply on the market to meet the demands of buyers and investors. There's nothing on the horizon to indicate that October will be any different." – says RAHB President Donna Bacher.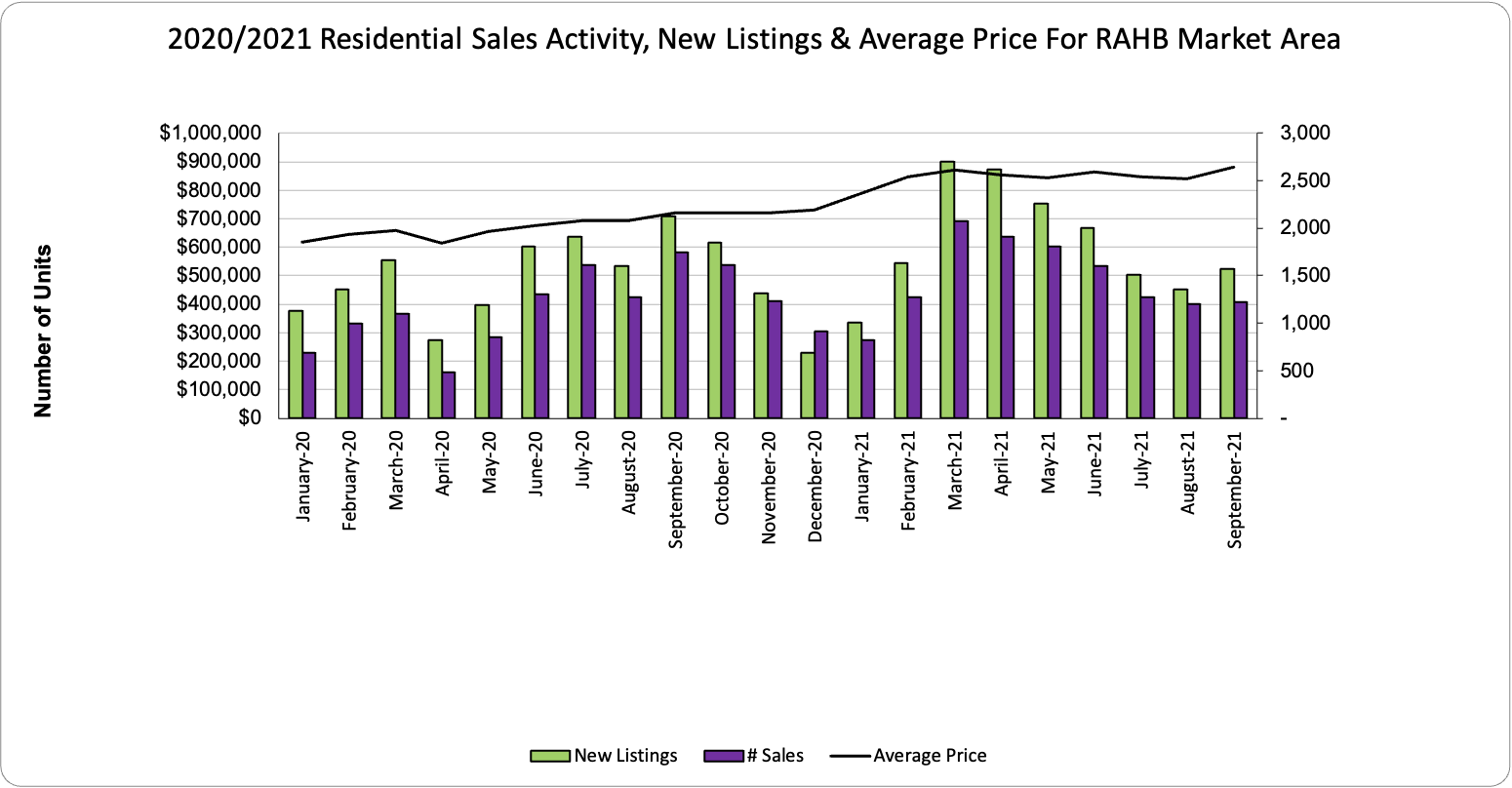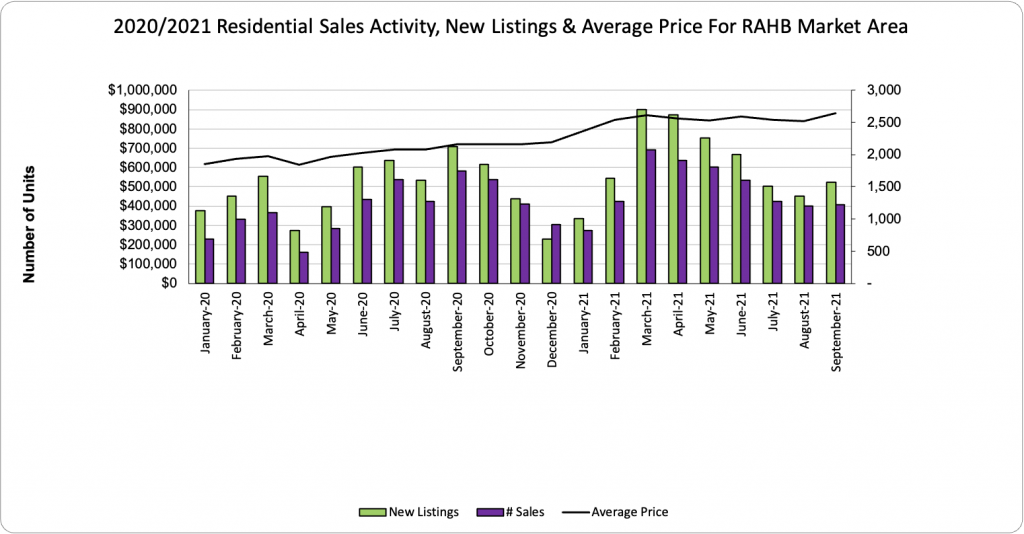 A look at individual market segments;
Single family detached homes continue to be in high demand for growing families, we saw a steady hold of 798 sales in September compared to 795 sales in August. The number of new listings increased by 14 per cent, and the average sale price increased by five per cent over last month to $981,678. The number of active listings for detached homes has increased by nine per cent compared to August 2021.
More townhouses came into the market following the end of summer, the number of sales of townhomes in the RAHB market area dropped by nearly four per cent in September 2021 compared to August 2021. The number of new listings of townhomes increased 17 per cent, and the average sale price increased by nearly two per cent to $758,338 from last month. Leaving the number of active listings down 1 per cent compared to august 2021.
The number of sales of apartment-style properties in the RAHB market area increased by nearly ten per cent month over month. September 2021 saw the number of new apartment-style listings increase by 15 per cent compared to last month the average sale price increased by 18 per cent over last month to $626,794.
"Average sale prices continue to remain strong in the Hamilton-area with an average sale price remaining in the $480,000 mark. For a wide variety of buyers, apartment-style properties remain attractive across the RAHB market." says Bacher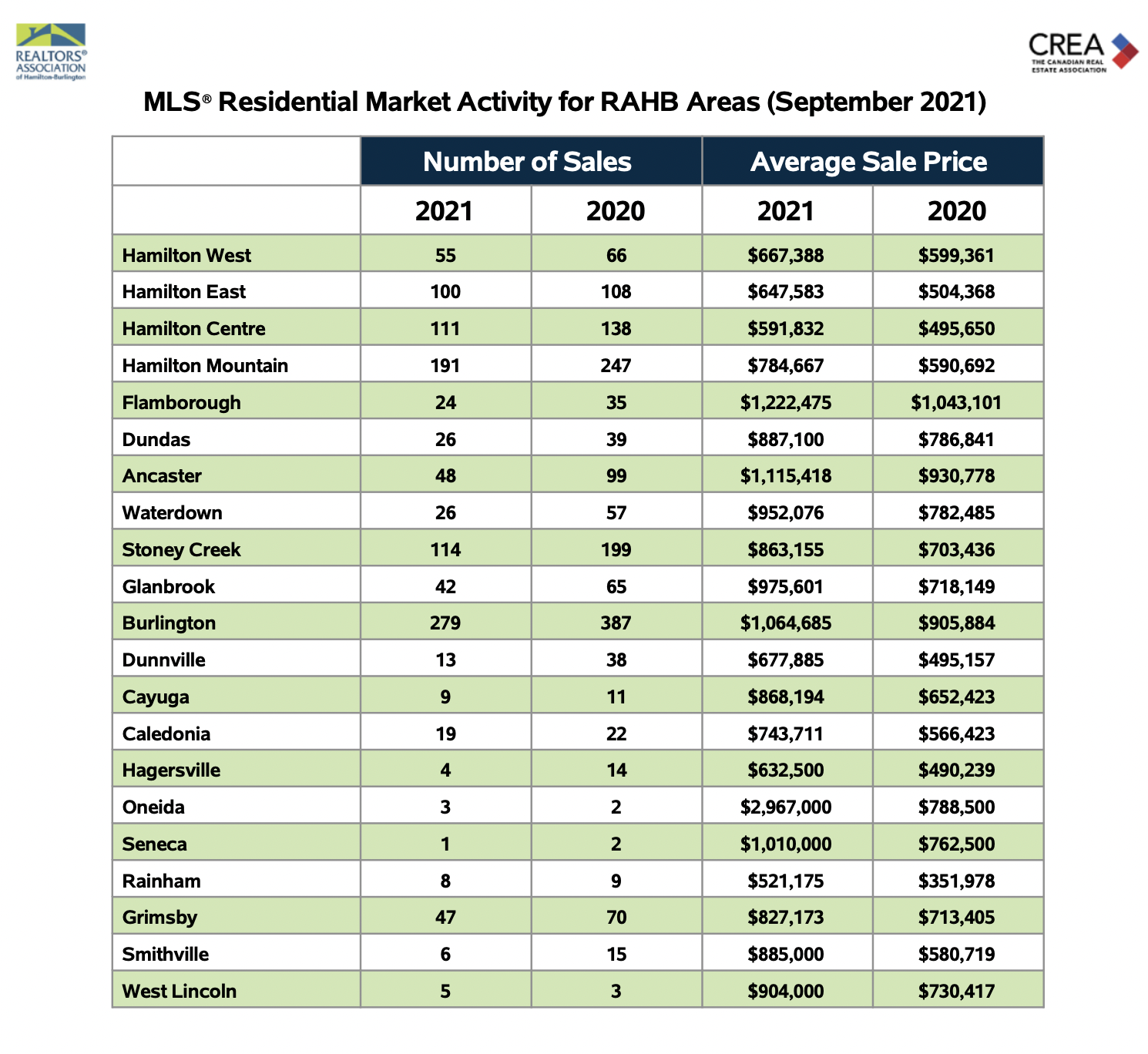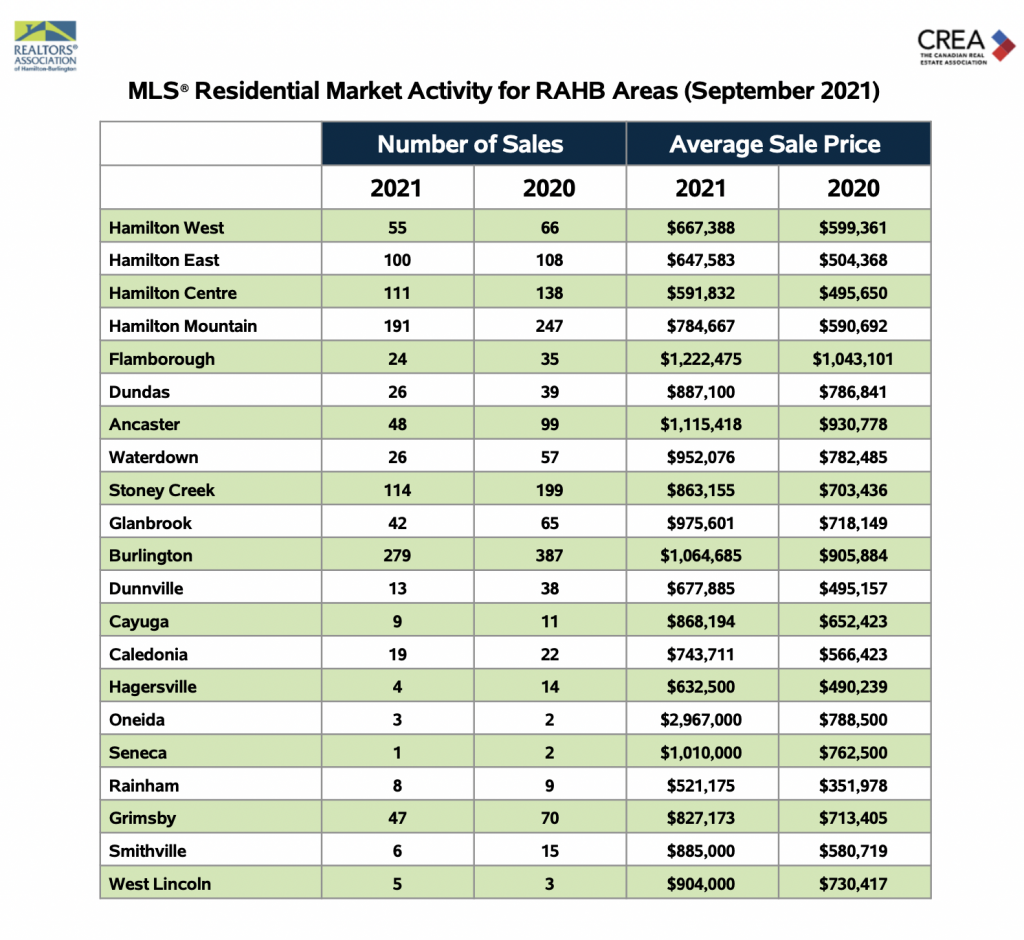 Sales within the RAHB market are ever changing and especially now more than ever we're seeing record-breaking all time high numbers. Buying a house in these complicated times makes it more difficult than it's ever been and it's important to follow what's happening in the market to understand the price fluctuations to determine when it's your time to make your move.
The best thing you can do is be informed. Give me a call, text or email me anytime and ask questions.